In this weeks light rail news – NET users told to 'pay up duck', recruitment drive launches in Edinburgh, zonal ticketing introduced in the West Midlands, six days of works on the Ashton line and half price entry with a lottery ticket to Seaton Tramway.
NET  
A new 'zero tolerance' campaign to further clampdown on fare evasion has been launched on Nottingham's tram network.
From next Monday (March 21) NET is urging all tram users to "Pay Up Duck" as it increased the number of on-board travel officers. Anyone without a valid ticket facing a penalty charge notice of £70 and the risk of a criminal prosecution.
With fares from just £1 and a range of ways to buy tickets online and in-person, the tram offers convenient, affordable travel for millions of people, yet a small minority of fare evaders continue to undermine the tram's efforts to keep Nottingham moving and support the city's post-pandemic recovery. You can read the full story by clicking here.
Edinburgh Trams
The operator of Edinburgh's growing tram network is launching a major recruitment campaign with a drive to hire Customer Service and Ticketing Assistants.
The role is primarily responsible for delivering 'Excellence for Edinburgh' while protecting the organisation's revenue and ensuring customers receive the very best travelling experience.
As the company looks forward to the completion of the Trams to Newhaven project, the campaign will continue throughout the coming months when more tram drivers and engineers will also be required and you can read more here.
Meanwhile a current member of the Edinburgh Trams team has been hailed a 'lifesaver' for administering first aid to a member of the public involved in a collision with a fast-moving train.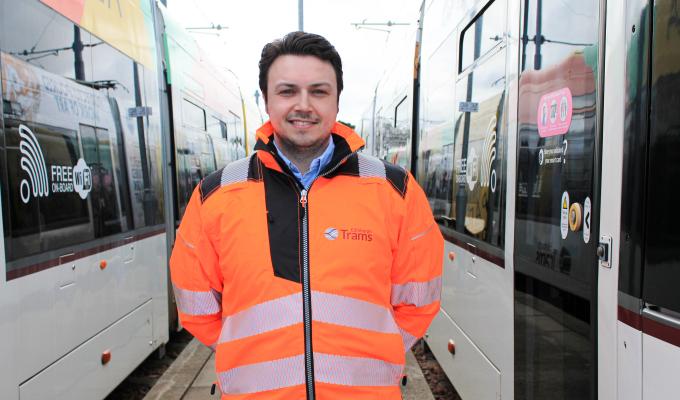 Stuart Mearns, an Assistant Engineering Manager, instinctively leapt into action at the Gateway train station after hearing cries for help and you can read the full story here.
West Midlands Metro
A new zonal ticketing system is to be introduced on West Midlands Metro on Monday, March 28.
The Metro will be split into four zones and the new ticket range will see the majority of journeys either reduced in price or see no additional cost for customers.
More information can be found here.
Manchester Metrolink
From this Sunday (March 20) the Ashton tram line will close for six days to enable essential maintenance works that will see the replacement of old tracks at Piccadilly Station tram stop in the Undercroft area, under the main Piccadilly railway station.
A replacement bus service, with like-for-like frequency, will be in place with clear signage on where to go, ensuring people can still reach their destination.
In addition, there will also be essential maintenance works taking place at the tram tracks at Piccadilly Gardens outside Primark and you can read the full story here.
Heritage
From this Saturday (March 19th) until Sunday, March 27, anyone with a valid National Lottery ticket or scratchcard can enjoy exclusive offers at Lottery-funded venues and attractions, including Seaton Tramway.
To thank National Lottery players for their support, Seaton Tramway will be offering Half-price Adult Explorer Tickets on 19th, 20th, 26th & 27th March. Anyone who presents any National Lottery ticket (digital or physical), scratchcard, or Instant Win Game, on these dates will be able to take up this special offer.
As a recipient of National Lottery funding, Seaton Tramway has been able to deliver its Travels Through Heritage and the Axe Valley Project. This has allowed the charity to expand its offer of interpretation and activities, including the new Seaton Wetlands Halt which is due to open this year, and you can find out more here.
To be included in the next round-up, or the Members News section of the UKTram website, send your press releases to jamie.swift@uktram.org.